Blade Repair
The Blade Repair (BR) course is the official GWO course aimed at personnel in the wind sector who will be working on tasks related to inspection and repair of wind turbine blades. This course aims to acquire the necessary skills, knowledge, and attitudes to carry out blade repair work in accordance with their aerodynamic principles, maintaining their structural integrity. Thus, the industry ensures that workers are prepared to perform high-risk tasks safely and comply with the risk prevention measures identified in different repair tasks.
GWO Blade Repair course focuses on the identification, control, and minimization of risks and hazards that may arise during inspections or repairs of wind turbine blades.
It is an introductory course aimed at providing students with the necessary skills for technical work required in a safe manner. It is divided into four blocks:
General safety.
Personal protective equipment.
General technical knowledge.
Technical practices.
The validity of the BR certificate is permanent.
To take the course, you must:
be at least 18 years old
be in good physical and mental condition
The course lasts for 70 hours (nine days) and is carried out in training centers accredited by GWO. Upon completion of the course, you will receive a certificate with permanent validity that allows you to work at any wind installation that follows the GWO standard.

Blade Repair
BR
The GWO Blade Repair (BST) course provides you with the knowledge and skills to carry out blade repair safely and efficiently according to GWO standards.
Upon successfully completing the course, the student will be able to conduct and document an inspection of wind turbine blades, carry out repair work according to a work instruction, and perform maintenance operations, including:
 Repair of up to 1.5 m of the trailing edge.
Repair of up to 1.5 m of the leading edge.
Laminating repairs down to the core material.
Replacement of up to 200 cm2 of core material.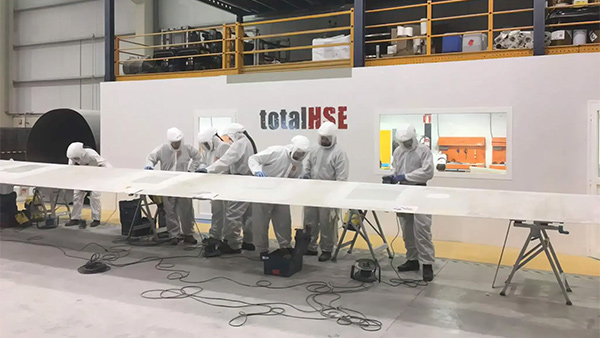 Where we are
Polígono Industrial Matallón Parcela 12 Calle B, 9B, 31579 Cárcar, Navarra